Month: March 2022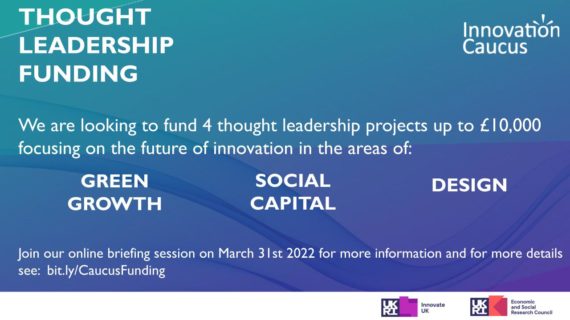 'This is a really exciting opportunity to explore themes that have emerged from other Caucus projects, which have the potential to create thought leadership for Innovate UK'
Debbie Johnson, Innovate UK
'This is a great opportunity for innovation and social science researchers to influence the priorities of Innovate UK'
Tim Vorley, Innovation Caucus
We're excited to be able to work with Innovate UK to fund up to 4 state of the art thought leadership projects that draw on academic insights (and primary research, if applicable) to provide new insights in one of three broad areas:  design, social capital and green growth.  The Innovation Caucus is offering funding of up to £10,000 for a suitable project led by a Caucus member.  Deadline for applications is Monday 11 April, 5pm.  
There will be an online Q&A session to cover any questions that you may have about the Future of Innovation Funding Call on 31 March at 2pm.  (Join Zoom Meeting)
Future of Innovation Funding Call:
Innovate UK is looking for thought leadership projects that will provide insights for business and policy making in these three key areas:
Design

– We invite projects exploring the benefits of design tools and processes in realizing stronger innovation outcomes for businesses, and potential implications for future innovation policy and programmes.

Social Capital

– We invite projects exploring the relationships between social capital and innovation, and the implications for policy and programmes to support innovators and innovative businesses.

Green Growth

– We are inviting projects to explore the future of green innovation collaborations and implications for the circular economy, identifying new future pathways for greening and the role of different policies in relation to the UK innovation system.
Intended outputs: These should include a c.10 slide presentation to ESRC/Innovate UK, a report (c.25 pages), and an executive summary (5 pages). 
Submission Process:  
Please complete and send to info@innovationcaucus.co.uk the proposal form: IC Funding Call Application Form March 2022
Completed proposal forms should be emailed to info@innovationcaucus.co.uk using the subject heading 'Funding proposal – Future of Innovation'. The deadline for submissions is 5pm on Monday 11th April 2022. 
Eligible Costs
Project costs (cost of travel, accommodation and subsistence)

Networking/event costs

Teaching or research buy-out 

Research assistance

Consumables 
Any other costs including but not limited to the below are ineligible costs (please email Laura at ldegenhardt@brookes.ac.uk to check if unsure):
Institutional overheads/work space

Additional salary payment to the researchers or personal maintenance

Equipment (inc but not limited to computing, recording equipment etc.)
Selection Process:
A selection panel, which will include the Principal Investigator for the Innovation Caucus and the project lead(s) for Innovate UK and/or ESRC, will meet to agree the preferred proposal, based on the following criteria:
Relevant expertise of lead applicants and other researchers

How well proposals meet the project brief

Value for money

Feasibility of project plans.
A final specification for the project will be agreed with the successful applicant(s).  We will aim to let you know the outcome of the selection by the end of April.
If you have any questions please contact info@innovationcaucus.co.uk or ldegenhardt@brookes.ac.uk. 
Read more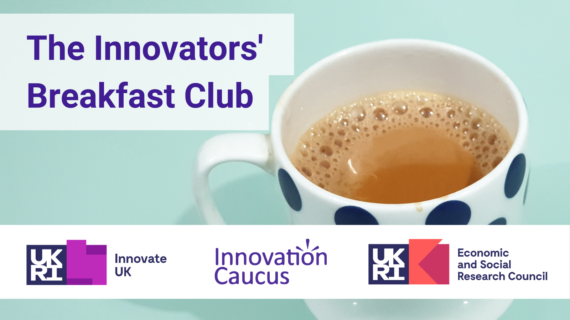 The Innovation Caucus was delighted to host a fourth series of the 'Innovators' Breakfast Club', bringing together leading social scientists and Innovate UK/UKRI staff to discuss prominent issues in the UK innovation landscape. 
It was great to see a lot of new faces from across UKRI join us for another set of engaging discussions. This series, we had a record turnout of over 100 attendees at a session where CEO of Innovate UK, Indro Mukerjee, was present.  Each session begins with an Innovate UK staff member setting out the context on the week's topic, followed by 2 or 3 short 'provocations' from Innovation Caucus members or special guests, invited for their social science expertise. Speakers' short inputs are designed to stimulate thinking and actionable insights drawn from social science research. The focal point of each event is always the lively audience discussion and Q & A with panellists.
We would like to thank all of our speakers (listed below) for their work in preparing and delivering insightful talks, Debbie Johnson and Dr Geeta Nathan (Innovate UK)  for their work in bringing this latest series together, and also Dr Vicki Belt (Enterprise Research Centre) for valuable expert speaker recommendations. Thanks also to participants for filling in the series evaluation form and providing plenty of ideas for future consideration – watch this space!
Innovator's Breakfast Club: Series 4 – Thanks to all of our speakers!
Networks (7.01.22)
This session discussed the importance of networks and networking in supporting innovation and business growth: how to strengthen innovation networks in the UK, and furthering understanding of how, in a post-covid world, to support networks and capacity building. 
Dr Alicia Greated (Knowledge Transfer Network/KTN) 

Dr Ben Spigel,

Innovation Caucus

(University of Edinburgh Business School)

Dr Sarah Otner,

Innovation Caucus

(Kingston University London)
Infrastructure (14.01.22)
This session advanced the discussion about the importance of the innovation infrastructure in the UK to support the future growth and competitiveness of firms. With key assets, such as Catapults, and facilities such as those at Harwell and Daresbury, there remains a focus by Innovate UK on future needs in terms of developing innovation assets and their role in the innovation ecosystem. 
Dr Dave Wilkes (Innovate UK, Director of Place, Centres and Networks)

Professor Jill MacBryde (University of Strathclyde)

Dr Muthu De Silva (Birkbeck, University of London)

Early Stage Investment (21.01.22)
This session sought insight from academics about how to support deep tech to improve Innovate UK's role as an advocate of early stage investment in the UK.
Esra Kasapoglu (Innovate UK,

Responsible Innovation, Inclusive Society, and Sustainable Economy for building the Digital UK)

Professor Stephen Roper (Warwick Business School)

Professor Ramana Nanda  (Imperial College London)
Sustainable Investment (28.01.22)
This session discussed ways of ensuring innovation investment and reflected on its impact on sustainability. Innovate UK were interested to hear insights from academics to inform how better to support UK businesses presenting their contribution in this area. 
Ian Meikle (Innovate UK, Director of Clean Growth and Infrastructure)

Dr Anna Valero (London School of Economics)

Professor Ian Docherty,

Innovation Caucus

(University of Stirling)
Levelling Up and Place (4.02.22)
Session highlighting the importance of considering place in the levelling up agenda
Dean Cook  (Innovate UK, Head of Regional Engagement) 

Professor Elvira Uyarra,

Innovation Caucus

(University of Manchester)

Robert Huggins,

Innovation Caucus

(Cardiff University)
Reflections (11.02.22)

Session looking at next steps to Innovate UK's innovation strategy and agenda
Geeta Nathan (Innovate UK, Head of Economics and Insights) 

Rob Shaw (UKRI, Innovate UK Chief of Staff) 

Shahid Omer (UKRI,

Deputy Director-Innovation Strategy at BEIS) 

Pippa Sharma (UKRI, Deputy Director for Technology Transfer at BEIS)

Professor Tim Vorley,

Innovation Caucus

(Oxford Brookes University)

Professor Stephen Roper (Warwick Business School
Featured image adapted from a photo by Syed Hussaini on Unsplash
Read more