Month: September 2020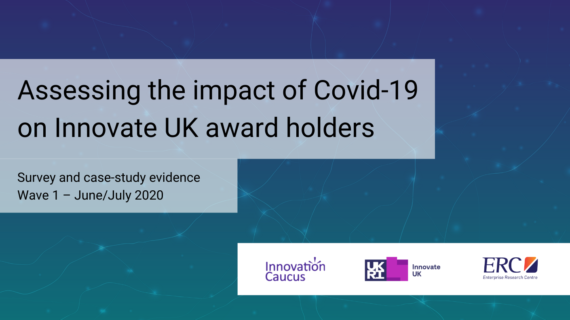 Today the Innovation Caucus and the Enterprise Research Centre published a joint report commissioned by Innovate UK into how supported businesses have weathered the pandemic. The research led by Professor Stephen Roper and Professor Tim Vorley highlights that the implications and impacts of COVID-19 have not adversely affected Innovate UK funded firms, many of which have shown great resilience and innovation.
Key findings:
In general terms firms had either maintained current levels of collaboration or seen it decline often due to the inability of partners to access laboratory or other facilities. Around 1:3 firms collaborating with universities said they had reduced levels of collaboration over this period. Few firms are planning to increase their level of spend with around two-thirds planning no change and 1:6 planning to reduce spend by more than 50 per cent.
Around two-thirds of firms regarded their IUK project as 'progressing, but behind the planned schedule'. Around 10 per cent of projects were described as 'paused'. Only a small proportion of projects (1.3 per cent) were 'stopped permanently'. Project delays were more likely among larger firms and those in the manufacturing sector.
The main reasons for disruption to projects were access to buildings or facilities due to the lock-down and the availability of collaborating partners. Together these were reported by around half of all respondents. Disruption to revenues was also a significant reason for project disruption among micro-businesses and among those in the broad hospitality, transport and finance sector.
Around two-third of firms suggested future R&D plans remained unchanged. The other third of firms were slowing down or cutting back on their projects.
The majority of firms indicated that they would benefit from additional financial support from IUK. Perhaps surprisingly only around 1:5 firms suggested that such support would be useful although this proportion rises to 1:3 among micro- businesses working on IUK awards
An Innovate UK spokesperson said:
"The Covid-19 pandemic is not just a crisis for health but also one that affects our economy and society profoundly. Recognising the impact that coronavirus has had on businesses that Innovate UK responded rapidly  to roll out additional support. We are accelerating up to £200 million of grant and loan payments for its 2,500 existing Innovate UK customers on an opt-in basis. An extra £550 million will also be made available to increase support for existing customers and £175,000 of support will be offered to around 1,200 firms not currently in receipt of Innovate UK funding. Businesses have demonstrated resilience and innovation and we know that may still face tough circumstances. We will do everything we can to develop our support and encourage businesses to get in touch with us so we see what further we can achieve together."
The analysis will be repeated in a second wave of the survey that will be conducted in late September, with a third wave of the survey to be conducted early in the New Year to help understand the full impact of COVID-19 on innovate UK funded businesses.
Read more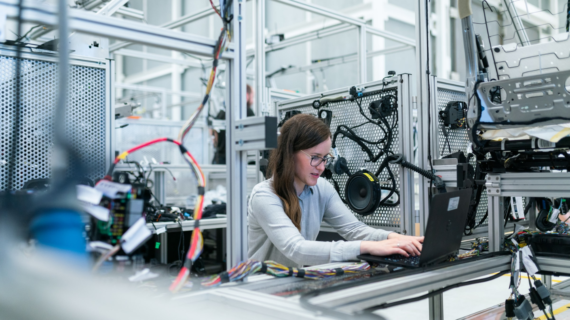 Photo credit: Photo by ThisisEngineering RAEng on Unsplash
The ESRC has issued a pre-call for a Manufacturing Made Smarter (MMS) Research Director and is hosting a Town Hall event supported by the Innovation Caucus. The Research Director will develop and support the creation of a visible and effective digital innovation ecosystem to accelerate the innovation and diffusion of Industrial Digital Technologies (IDTs). The MMS Research Director will work for initial period of five months to engage with key stakeholders and develop a detailed proposal for a MMS Network+. The Network+, under the leadership of the MMS Research Director, will ensure that the full range and depth of social and economic science insights are accessed across the MMS Challenge and wider UK manufacturing sector. The MMS Network+ will operate until December 2024. The UKRI ISCF MMS Challenge will invest up to £4 million through this competition. Full details on the pre-call are available on the UKRI website.
This meeting is for any individual interested in finding out more about the Research Director role, where you will hear from a current ISCF Research Director (Professor Judith Phillips), a Network+ Director (Professor Jacqueline Glass), the MMS Challenge Director (Chris Courtney) and the ESRC MMS Senior Manager (Daniel Robinson). The webinar will take place on Tuesday 13th October, 14:30 – 15:45.
Click here to register: http://bit.ly/MMSResearchDirector
The aim of the MMS Challenge is to help UK manufacturing become more productive and competitive through the innovation and diffusion of digital technology. This includes IDTs such as additive manufacturing, robotics, virtual/augmented reality, artificial intelligence, machine learning and data analytics. The MMS ISCF Challenge will invest up to £147m.
The role of the Research Director is to develop and oversee the implementation of a MMS Network to ensure that the full range and depth of social and economic science insights are accessed across the MMS Challenge and wider UK manufacturing sector. The Research Director will work closely with the UKRI MMS Challenge Director and team in the development of the Network+. The Network+ will provide academic leadership across the sectors and organise networking activities such as workshops, events and communications, to build sustained engagement and collaboration. Applicants for the Research Director position can come from any academic discipline relevant to the MMS Challenge but will need to demonstrate a detailed understanding of the economic and social sciences as they apply to innovation and diffusion of new digital manufacturing technologies. They will be able to demonstrate their commitment to interdisciplinary working, and ability to build new collaborations between different social, economic and other disciplines including engineering. They will also need to demonstrate an understanding of the needs and demands of the manufacturing sector in the UK.
Through the five-month scoping phase, the MMS Research Director will work with the UKRI MMS Challenge Director and team to identify how the economic and social science communities can most effectively support the UK manufacturing sector accelerate its innovation and diffusion of IDTs. Industry engagement will be critical, including SMEs, as will the engagement of other key stakeholders including the Made Smarter Commission and Northwest pilot, and the Department for Business, Energy and Industrial Strategy.
The scoping phase will also need to ensure that the proposed Network+ and wider MMS Challenge are aligned and able to respond to key developments such as major fiscal events, EU Withdrawal, and the ongoing impacts of Covid-19. Following this scoping phase, the Research Director will lead the Network+.
For full details and timetable of this call please visit https://www.ukri.org/funding/funding-opportunities/ukri-iscf-manufacturing-made-smarter-research-director-pre-call-announcement/
Read more