Month: June 2021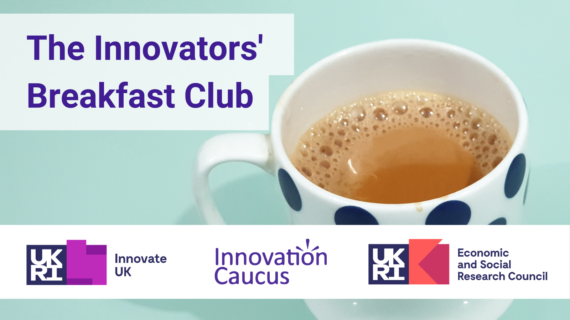 The Innovation Caucus was delighted to host a third series of the 'Innovators' Breakfast Club', bringing together leading social scientists and Innovate UK/UKRI staff to discuss prominent issues in the UK innovation landscape.
It was great to see a lot of new faces from across UKRI join us for another set of engaging discussions. Each session begins with an Innovate UK staff member setting out the context on the week's topic, followed by 2 or 3 short 'provocations' from Innovation Caucus members or special guests, invited for their social science expertise. Speakers' short inputs are designed to stimulate thinking and actionable insights drawn from social science research. The focal point of each event is always the lively audience discussion and Q & A with panellists.
We would like to thank all of our speakers (listed below) for their work in preparing and delivering insightful talks,  Debbie Johnson and Dr Geeta Nathan (Innovate UK)  for their work in bringing this latest series together, and also Dr Vicki Belt (Enterprise Research Centre) for valuable expert speaker recommendations. Thanks also to participants for filling in the series evaluation form and providing plenty of ideas for future consideration – watch this space!
Innovator's Breakfast Club: Series 3 – Thanks to all of our speakers!
Disruptive Innovation (21.04.21)
Simone Boekelaar (Innovate UK)
Professor Jonathan Sapsed (Newcastle University)
Professor Irene Ng (University of Warwick)
Business Model Innovation (28.04.21)
Nigel Walker (Innovate UK)
Dr Panos Desyllas (University of Bath)
Dr Yang Zhao (Loughborough University London)
Agility & Experimentations (05.05.21)
Simon Edmonds (Innovate UK)
Dr Eszter Czibor (Nesta)
Professor Bruce Tether (University of Manchester)
Connecting Innovation Ecosystems (12.05.21)
Dan Hodges (Innovate UK)
Professor Kiran Fernandes (Durham University)
Dr Karen Bonner (University of Ulster)
Professor Rick Delbridge (Cardiff University)
Missions (19.05.21)
Mike Biddle (Innovate UK)
Dr Kieron Flanagan (University of Manchester)
Professor Kevin Morgan (Cardiff University)
Featured image adapted from a photo by Syed Hussaini on Unsplash
Read more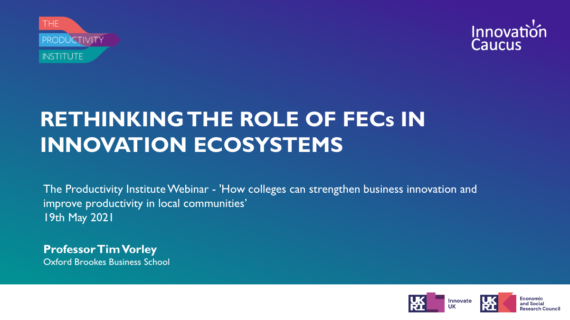 Professor Tim Vorley (Academic Lead of the Innovation Caucus) was pleased to join a recent Association of Colleges webinar, supported by the Gatsby Charitable Foundation and the Productivity Institute, to share some of our ongoing work looking at the role of FECs in the the Innovation Ecosystem.
What can colleges, as anchor institutions in their respective places,  do as part of the innovation ecosystem? Our work with Innovate UK and Gatsby looks at the important role of FECs and goes above and beyond skills development.
About the Innovation Caucus:
The Innovation Caucus supports sustainable innovation-led growth by promoting engagement between the social sciences and the innovation ecosystem. Our members are leading academics from across the social science community, who are engaged in different aspects of innovation research. We connect the social sciences, Innovate UK and the ESRC, by providing research insights to inform innovation policy and practice. We champion the role of social science in innovation and enhance its impact. Professor Tim Vorley is the Academic Lead. The initiative is funded and co-developed by the ESRC and Innovate UK. The views expressed in this piece are those of the author and do not necessarily represent those of the funders
Read more