Month: March 2021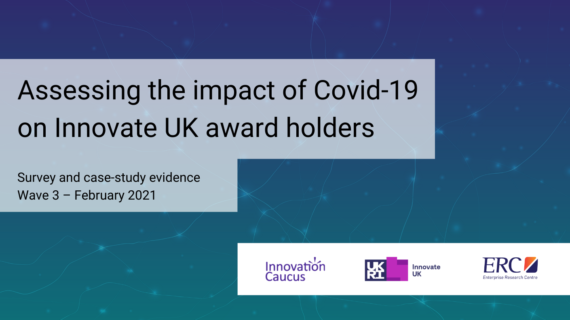 Today the Innovation Caucus and the Enterprise Research Centre published their third in a series of benchmark reports on the impact of the Covid-19 crisis on Innovate UK award holders.
Analysis was based on an on-line survey of 274 IUK award holders conducted between 1st February and 25th February 2021 and 21 in-depth interviews which were undertaken over the same period. The report was commissioned by Innovate UK.
This Insights Paper was prepared by Stephen Roper (Enterprise Research Centre and University of Warwick), Tim Vorley (Innovation Caucus and Oxford Brookes University) and Jen Nelles (Innovation Caucus and University of Sheffield).
Download the Wave 3 report here.
Headline Summary
In February 2021 firms were marginally more optimistic about the outlook than in October 2020. However, firms are still experiencing significant challenges constraining their abilities to engage in innovation and complete projects on time, potentially with longer term implications for the innovative capacity of the economy.
Firms are experiencing continued disruption through the lockdown particularly to cash flow, business development and the ability to network with other companies. Cash flow remains critical for about 1:5 companies. This is a slight worsening of the situation from the previous period when around 1:6 companies reported cash flow being critical. Most firms were aiming to reduce costs in order to cope.
R&D investment patterns vary significantly between firms with some firms rebounding, some in a holding pattern with stable levels of investment and some firms continuing to pull back from investing in R&D and innovation. 62.7% still classify their R&D capacity as "disrupted", indicating that despite these upticks many firms are still not back to normal capacity.
You can also read the Wave 2 report here (October – November 2020) and the Wave 1 report here (June – July 2020).
Read more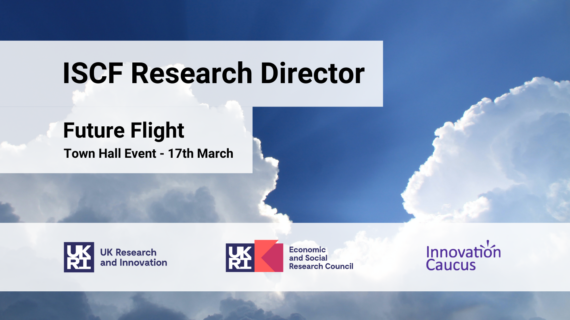 ISCF Future Flight Research Director Call –Now open
UK Research and Innovation (UKRI), via the Economic and Social Research Council (ESRC), is pleased to announce that the Industrial Strategy Challenge Fund (ISCF) Future Flight Research Director call is now open.
The Research Director will help the Future Flight Challenge and wider aviation sector to identify areas where economic and social science research can make a significant contribution. A key aim of the role will be to support the creation of a multidisciplinary community, linking stakeholders, researchers and businesses to identify and tackle challenges associated with Future Flight. You can watch a video below from an online briefing event for potential applicants which was hosted by the Innovation Caucus on 17th March.
The call will provide £190,000 (100% fEC) of funding for 12 months.
Proposals must be submitted by 16:00 22 April 2021. All proposals to this opportunity must be from a researcher based at an eligible UK research organisation.
For further details please visit: https://www.ukri.org/opportunity/iscf-future-flight-research-director-2021/
Featured image adapted from photo by Sam Schooler on Unsplash.
Read more