By Sally Godson
Project Administrator, Innovation Caucus
After starting my role with the Innovation Caucus, a common question from curious friends and family was; 'what's a caucus?'. Fair question! If you're not quite sure yourself, I promise to serve up a definition I've found helpful, but allow me first to show you what the Innovation Caucus means through the lens of one of our recent events.
In January we brought together many of the 80-strong group of social science academics who are at the heart of the Innovation Caucus. Our members' expertise spans a fascinating range – from climate change policy to computational social science – but what unites all of the academics who give their time to work with us, is a deep understanding of innovation based on research-based social science insights. The purpose of our gathering in January was to celebrate new members joining and to discuss future plans.
To kick-off our meeting in Birmingham, the Caucus' Academic lead, Professor Tim Vorley took us on a quick journey through the Caucus' past – from its beginnings as 5 thought leaders who worked with Innovate UK  to provide on-hand social science expertise – right through to the current  'phase 3' incarnation represented by the room full of engaged social science scholars.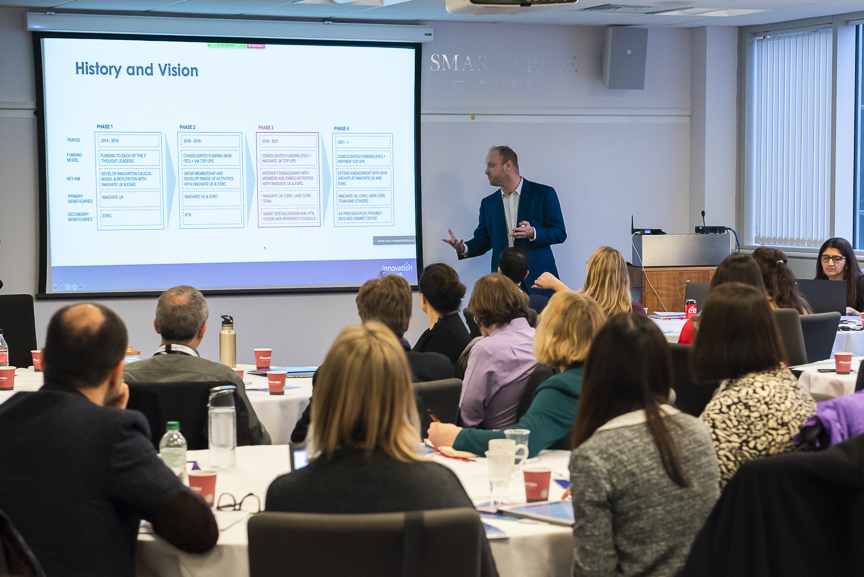 Following Tim's opener, we were delighted to hear from Geeta Nathan (Head of Economics & Insight, Innovate UK) and Dr Adam Luqmani (Senior Portfolio Manager, ESRC). The purpose of the Innovation Caucus is to provide the ESRC and Innovate UK with easy access to academically-rigorous, social science based, innovation insights. The collaboration works through Members' provision of rapid responses, projects, and workshops, meeting needs as they emerge. Adam and Geeta, who both sit on our Management Group, shared with us how this relationship has contributed to past projects and how Members can play a part in future delivery plans.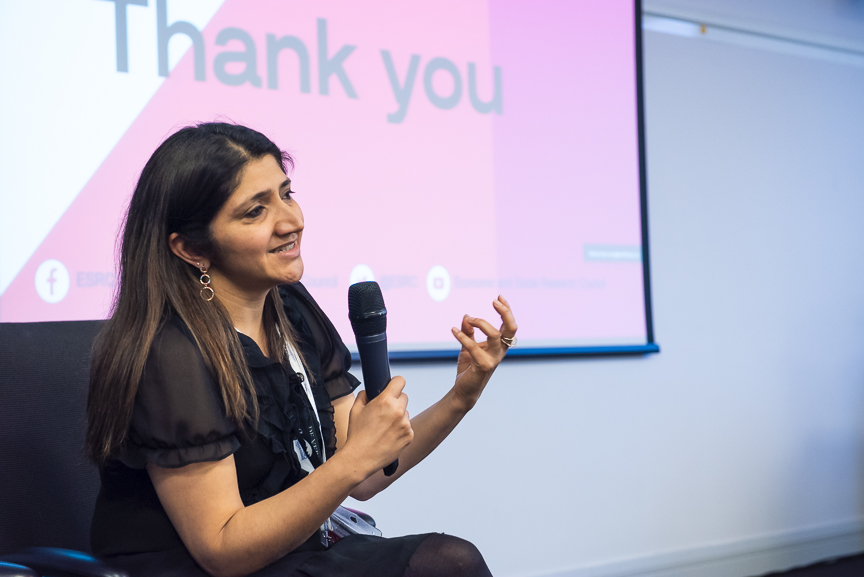 Over the last year the Innovation Caucus has been working hard to mobilise social science capacity to meet the challenges set out in the Industrial Strategy. As part of this ongoing mission, ISCF Challenge Director, Gary Cutts, kindly joined us in Birmingham. Gary delved into his own Challenge area of 'Future Flight' and illustrated how social science insights can intertwine with technological challenges to create the new and innovative thinking that the UK government wants to see.
Perhaps the best representation of what the Caucus is all about came in the final part of our Members' Event – a panel session with Maxine Adam (Head of Business Growth, Innovate UK), Melanie Knetsch (Deputy Director of Impact and Innovation, ESRC), Dr Emily Nott (Head of Diversity and Inclusion Programmes, Innovate UK) and Ben Peace (Head of Manufacturing, KTN). Each of the panel were able to share their experiences of integrating social science insights via the Caucus – such as a project looking at how to encourage participation in innovation from under-represented groups.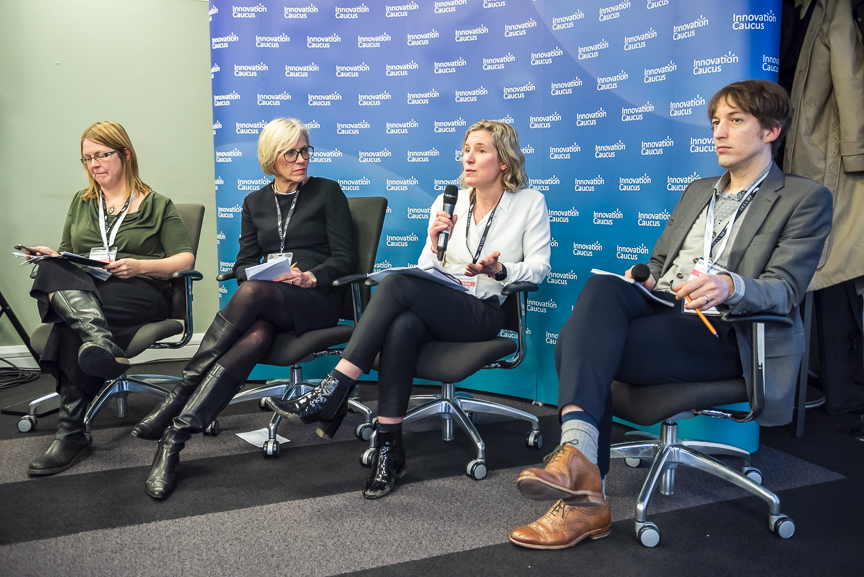 So, 'what's a caucus?' Well, I promised a dictionary definition and Merriam-Webster's "a group of people united to promote an agreed upon cause" certainly rings true. However, I hope I've left you with a richer picture of what the Innovation Caucus represents.